Rear seat belt replacement
Since I'm stuck infront of the computer because I'm not supposed to be doing any heavy lifting, I thought I might post some of my previous handy work.
When I bought my R31 GTS-X it had to have rear seat belts fitted for compliancing. They used generic belts mounted on top of the rear parcel shelf. The people that fitted them mounted them too close to the protruding speaker grills, crushing the locking mechanism resulting in the seat belt quickly becoming unusable. They are also pretty ugly. I also wanted to upgrade the speakers in the back, as the cones had deteriorated.
So I pulled out the back seat to get the parcel shelf out. I used the old shelf as a template and made a new one out of MDF board. I cut out the vents and some holes for the speakers, and covered the shelf panel in black vinyl. When I was done you couldn't tell there were speakers under there.
I also noticed that there were seat belt anchor points under the rear shelf. So I bought a set of rear belts from an Australian R31 sedan, thinking they would be a direct swap, but they weren't. I had to drill new mounting holes in the reel so that the belts sat below the parcel shelf. I cut off the mounting that fits to the side C-pillar of the car as I didn't intend to use it.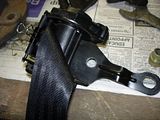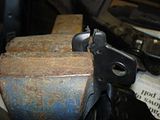 I also got the little outlet ports that the belts come through and painted them black.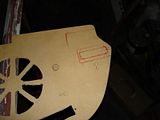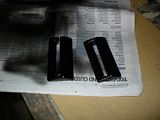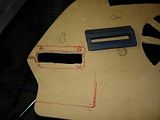 I replaced the finished rear shelf panel, fed the seat belts through the slot in the shelf, and bolted the panel down with the baby seat mounts, which are also required by law.
Replaced the back seat and the install looks a lot cleaner than the top mount belts.